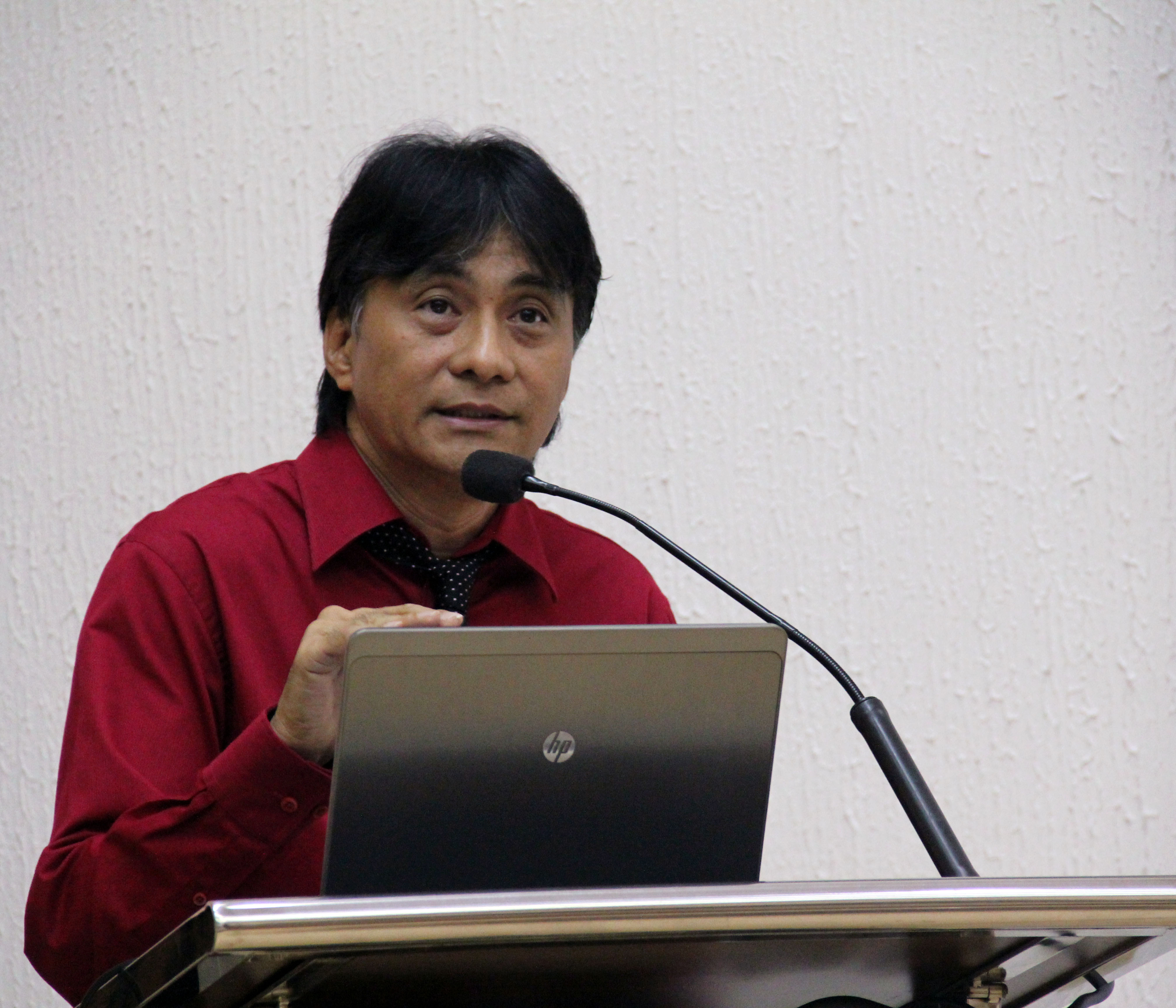 Dr. Victor B. Ella is a distinguished Professor of Land and Water Resources Engineering at the College of Engineering and Agro-Industrial Technology (CEAT), University of the Philippines Los Baños (UPLB). A former Dean of CEAT, he currently holds the rank of Professor 12 and the title UP Scientist II.
Education
Dr. Ella obtained his PhD with double major in Agricultural Engineering and Civil (Environmental) Engineering in Iowa State University in USA in 1999 as a Fullbright scholar. He also worked on a one-year postdoctoral study on contaminant transport in soils at the same university. He earned his Master of Science degree in Irrigation Engineering at Catholic University of Leuven in Belgium in 1986 under the Belgian government scholarship. He obtained his Bachelor of Science degree in Agricultural Engineering at the University of the Philippines Los Baños in 1982.
TEACHING/INSTRUCTION
Dr. Victor B. Ella has been a faculty member of CEAT for 34 years now. He started as Instructor I at the then Department of Land and Water Resources Engineering and Technology (LAWREAT) of CEAT right after taking the 1982 Agricultural Engineering Board Exam, passing as one of the top-notchers (second placer). He rose through the ranks getting promoted to Assistant Professor in 1990, Associate Professor in 2000 and crossing the rank of Professor in 2008 and getting promoted to the highest rank of Professor 12 in 2014.
Over the years, Dr. Ella has taught a wide variety of engineering courses that include advanced water resources planning, groundwater hydrology, water quality control engineering, erosion and sediment transport, statistical hydrology and water management for MS and PhD students; and undergraduate courses such as hydrology, irrigation and drainage engineering, water quality management, sanitary engineering, soil engineering, water resources planning, open channel hydraulics, water control structures, fluid mechanics, mathematical methods in engineering, among others for BS students. While teaching, he has served as thesis adviser, co-adviser or committee member to BS, MS and PhD students in agricultural engineering major in land and water resources and environmental science, soil science, agricultural economics and forestry. Dr. Ella has also contributed immensely in the curricular development most notably for the major program in land and water resources of the BS Agricultural Engineering curriculum in the late 80s and early 90s, developing the course analyses for a number of 100 level specialized courses. He has also served other CEAT units in their instruction function, most notably the Department of Civil Engineering. Dr. Ella was the first to handle and develop the fluid mechanics laboratory class for the first batch of civil engineering students at CEAT in the early 90s. In the early to late 2000s, he took over the handling of sanitary engineering course for civil engineering students. His value to UPLB's graduate programs was also evident during his post-PhD years. For several years now, he has been the only senior regular faculty at the Land and Water Resources Division (LWRD) of IAE who could serve as dissertation adviser to PhD students majoring in land and water resources.
RESEARCH
Like his teaching activities, Dr. Ella's research work has also been diverse. He has worked on and completed various research projects on hydrologic, soil erosion, and groundwater modeling, contaminant transport in soils, water quality, drip irrigation, conservation agriculture, among others. To date, he has published more than 25 peer-reviewed journal articles and book chapters as lead author, co-author or sole author and has presented more than 50 papers in local and international scientific and professional conferences and fora. Among his most notable research undertakings include the hydrology, irrigation and soil and water resources components of the USAID-funded SANREM-CRSP project in Mindanao, in which he served as project leader in its various phases from 2001 to 2014 and as country coordinator from 2010 to 2014. He pioneered research works in the Philippines on WEPP and SWAT erosion and watershed modeling, low-cost drip irrigation and conservation agriculture, which were all geared towards sustainable agricultural development and natural resources management in upland areas. Through his SANREM project, he was able to support a number of undergraduate and graduate students including some junior faculty of the Engineering Science Department of CEAT under his advisorship. These, along with his other research projects eventually resulted to several international publications or book chapters, some of which earned him publication awards such as the CHED Republica Award for Outstanding Research Publication in 2007 and several UP International Publication Awards. His scientific productivity and international professional standing was consequently given recognition by the UP System through its Scientific Productivity System and conferred him the title UP Scientist I in 2012. At that time, he earned the distinction of being the first and only faculty from the College of Engineering in the whole UP System to be conferred the UP Scientist title. In 2015, he was promoted to UP Scientist II. To date, he remains as the only faculty from CEAT with this title.
EXTENSION and PUBLIC SERVICE
Dr. Ella's contribution to extension and public service has likewise been broad. In the late 80s and early 90s, his extension activities include designing of sprinkler irrigation systems for farm owners in CALABARZON, planning of irrigation and water resources systems for local government units, and serving as resource person, lecturer or coordinator in numerous training programs on irrigation and water management, hydrology, and related water resources engineering disciplines. After his PhD, his extension activities and public service expanded and included contribution to legislative refinement most notably the Implementing Rules and Regulations (IRR) of the Philippine Clean Water Act, specifically on wastewater reuse for irrigation. Dr. Ella has also contributed in the editorship of international peer-reviewed journals and books, serving as Section Editor of Philippine Agricultural Scientist in 2010, as Associate Editor of International Journal of Agricultural and Biological Engineering since 2012, and as editor or co-editor of a number of international book publications. Serving as external reviewer and peer-reviewer of local and international journal articles and book chapters are among his regular extension activities. Dr. Ella has served as keynote speaker on hydrologic modeling in a number of professional conferences in Southeast Asia in the late 2000s. He has also served as hydrologist, irrigation and hydrologic modeling specialist, and land and water management specialist in projects under FAO, JICA and World Bank. Dr. Ella has served as mentor for faculty study leaders from other SUCs. Recently, he mentored an American Fulbright visiting scholar from North Carolina for almost a year.
ADMINISTRATIVE
Dr. Ella served as Dean of CEAT from June 2005 to July 2008. Prior to his deanship, he served as Chair of the Land and Water Resources Division, IAE, CEAT from 2001 to 2003. As dean, he initiated the giving of formal recognition to university scholars and college scholars of CEAT, the giving of monetary award to engineering board exam top-notchers from CEAT, the revival of the awarding of outstanding CEAT faculty and staff, the revitalization of the Philippine Journal of Agricultural and Biosystems Engineering journal, the revival of the CEAT Newsletter, the expansion of faculty-based research from AMDP to give research and publication opportunities especially to junior faculty in all CEAT units, among his other initiatives alongside his priority programs on engineering curriculum improvement, faculty development and upgrading of facilities. He also initiated the holding of annual celebration of CEAT Foundation day. During his deanship, he served as Philippine Country Representative to the United Nations Asian and Pacific Center for Agricultural Engineering and Machinery (UNAPCAEM) and was elected Chair of its Technical Committee in 2005.  Dr. Ella also served as the lone UPLB representative and member of the UP System Committee on Emerging Science and Technology from 2005 to 2010, among his many other committee involvement at the system and university level down to the division level.
AWARDS
Among Dr. Ella's most prestigious awards and distinctions include the One UP Professorial Chair award for teaching and research (2016-2018); UP Scientific Productivity Award (2015-2017); SEARCA Regional Professorial Chair (2015-2016); Outstanding Senior Faculty of CEAT (2016) ; UPLB Centennial Professorial Chair (2011 and 2010);  SEARCA Professorial Chair (2009 and 2003); CEAT Distinguished  Alumnus Award (2008); SEARCA-SFRT award (2008); IAE-CHED Best Teacher Award (2004); PNOC Professorial Chair (2004); AFMA Best Paper Award (2003); Research Excellence award given by Iowa State University (1999), Fulbright Fellowship (1995-2000); Great Distinction given by Catholic University of Leuven, Belgium (1986);
Dr. Ella's passion for and dedication to academic work is evident in his numerous accomplishments. He has devoted his entire career as faculty of CEAT, UPLB continuously serving the academe in various ways. He has served the University for three decades now and intends to continue to serve the academe for as long as he can.
Contributed by: NAPanaligan