The College of Engineering and Agro-industrial Technology (CEAT) will be holding the first International Conference on Engineering and Agro-industrial Technology (iCEAT 2022) on Feb. 23-24, 2022. With the theme "Sustainable Agro-industrial and Food Engineering (SAFE) Systems: Current Trends, Challenges, and Opportunities", the conference will be held virtually via Zoom and will be livestreamed in CEAT's online platforms.
The conference aims to bring together leading scientists, policy makers, researchers, educators, and students to discuss the latest issues and trends, as well as to recommend solutions and best practices in different engineering fields.
As part of the 110th Founding Anniversary celebration of the college, the iCEAT 2022 manifests the role of UP, through UPLB, as a National University that is responsible for promoting research and development, dissemination, and application of SAFE Systems. The college envisions an annual iteration of this conference, in order to be at the forefront of the dynamic landscape of SAFE Systems.
Hon. Fortunato T. dela Peña, Secretary of the Department of Science and Technology (DOST), and Hon. William D. Dar, Secretary of the Department of Agriculture (DA) will be the keynote speakers of the said event alongside Atty. Danilo L. Concepcion, President of the University of the Philippines.
Meanwhile, speakers coming from various academic institutions will present their latest research during the two-day event. On February 23, the conference will feature Dr. Francis L. delos Reyes III from North Carolina State University, Dr. Manuel R. Reyes from Kansas State University, Dr. Sergio C. Capareda from Texas A&M University, and Dr. Isagani Sarmiento, a QPRS Consultant and Continuing Improvement Advocate.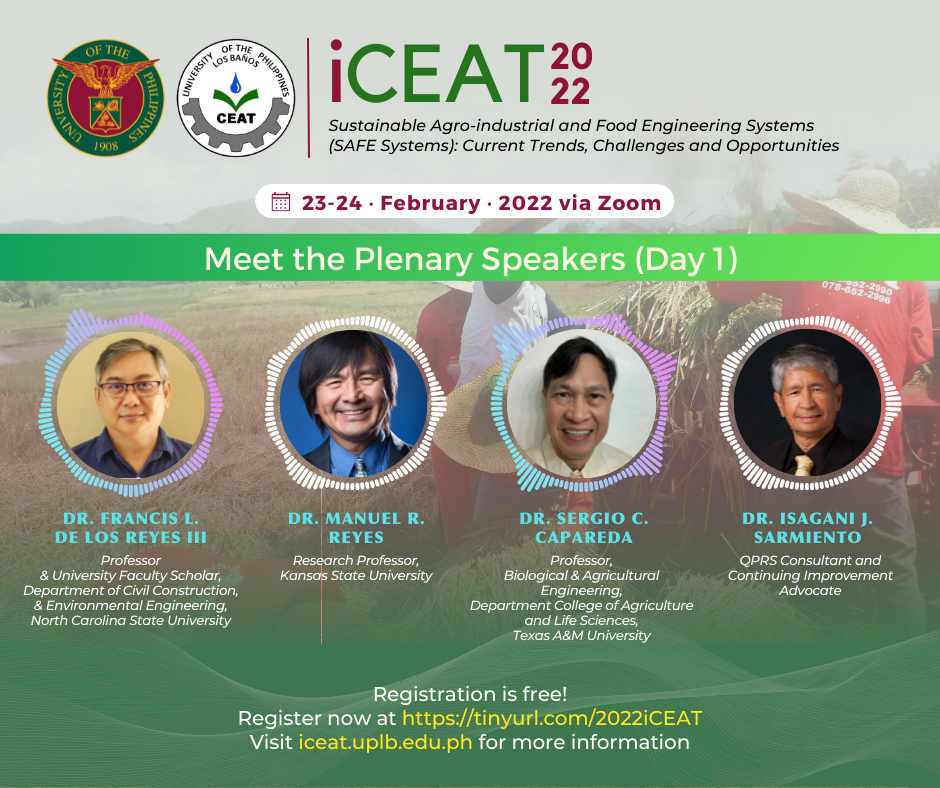 On February 24, participants will hear from Dr. Joel Cuello from The University of Arizona, Dr. Siti Khairunniza Bejo from the Universiti Putra Malaysia, Dr. Lilik Soetiarso from the Universitas Gadjah Mada, and Dr. Leslie Joy Diaz from the University of the Philippines- Diliman.

Participants should look forward to the discussions revolving around the topics of (i) Food Systems, Bioprocess Engineering, Agricultural and Fisheries Mechanization, (ii) Land and Water Resources Engineering, Biomass and Biofuels – Renewable Energy, (iii) Environmental Engineering and Waste Management, (iv) Materials Engineering, Electrical Engineering, Infrastructure and (v) Civil Engineering, and Industrial Engineering, Engineering and Social Sciences.
Interested individuals can visit the conference website (iceat.uplb.edu.ph) to register and learn more about the conference.
The iCEAT 2022 is organized by faculty members and staff of the college, with the leadership of its steering committee: Dr. Rossana Marie C. Amongo (chair and college dean), Dr. Ronel S. Pangan (co-chair), Dr. Arthur L. Fajardo, Dr. Monet Concepcion M. Detras, Dr. Roger A. Luyun, Jr., Asst. Prof. Jedidiah Joel C. Aguirre, Asst. Prof. Roderick L. Catriz, Dr. Josefa Angelie D. Revilla, Asst. Prof. Christian C. Vaso, Dr. Ralph Kristoffer B., and Dr. Marion Lux Y. Castro. (Allen Lemuel G. Lemence)