The College of Engineering and Agro-industrial Technology had a successful week-long celebration for its 110th Founding Anniversary on February 21 – 24, 2022 with the theme "CEAT at the Forefront of Sustainable Agro-industrial and Food Engineering (SAFE) Systems".
On 21 Feb. 2021, a virtual Memorandum of Understanding (MOU) signing ceremony and the turnover ceremony for the naming rights of the Dante B. de Padua Hall (formerly Electrical Engineering Building) served to kick off the celebration.
UPLB Chancellor Jose V. Camacho Jr. and CEAT Dean Rossana Marie C. Amongo were present during the on-site ceremony together with some members of the CEAT Executive Committee. Meanwhile, the new partner companies and institutions of CEAT and UPLB- Edland Company, Migo Skin Inc. and Institut Teknologi Sepuluh Nopember (ITS) – attended the event via Zoom with their representatives. The MOU signing was made possible through the help of the Departments of Civil and Industrial Engineering and the CEAT Committee on Internship.
The turnover ceremony for the naming rights of the Dante B. de Padua Hall was attended by Chancellor Camacho, Dr. Amongo and the family and relatives of the late Dr. de Padua.
Dr. Dante B. de Padua was the first Dean of CEAT. His significant service to the Filipino people was seen in his immense contribution to the establishment and growth of CEAT and postharvest technology not only in the Philippines but also in Southeast Asia. He led an outstanding career as an engineer, mentor, institution builder and technology developer.
The naming rights was approved on the 1347th meeting of the UP Board of Regents on 28th August 2019.
The second event of the week-long celebration was the annual CEAT Awarding ceremony held on 22 February 2022. During this event, plaques and cash award courtesy of the UPL-CEAT Alumni Association were given to recognize the 2022 CEAT's outstanding personnel (Faculty, REPS and administrative staff). All CEAT retirees, loyalty service awardees, board topnotchers and honor students were also given recognition. Below are the list of Outstanding Personnel, Retirees and Service Awardees for 2022.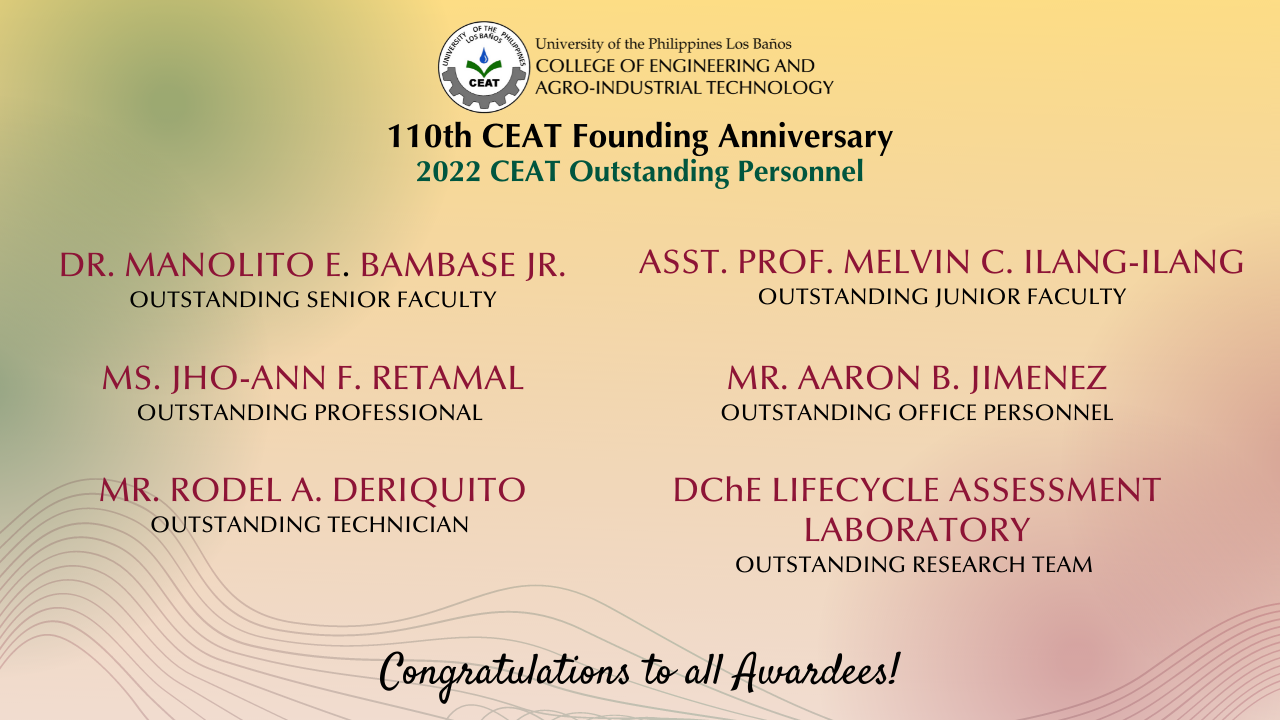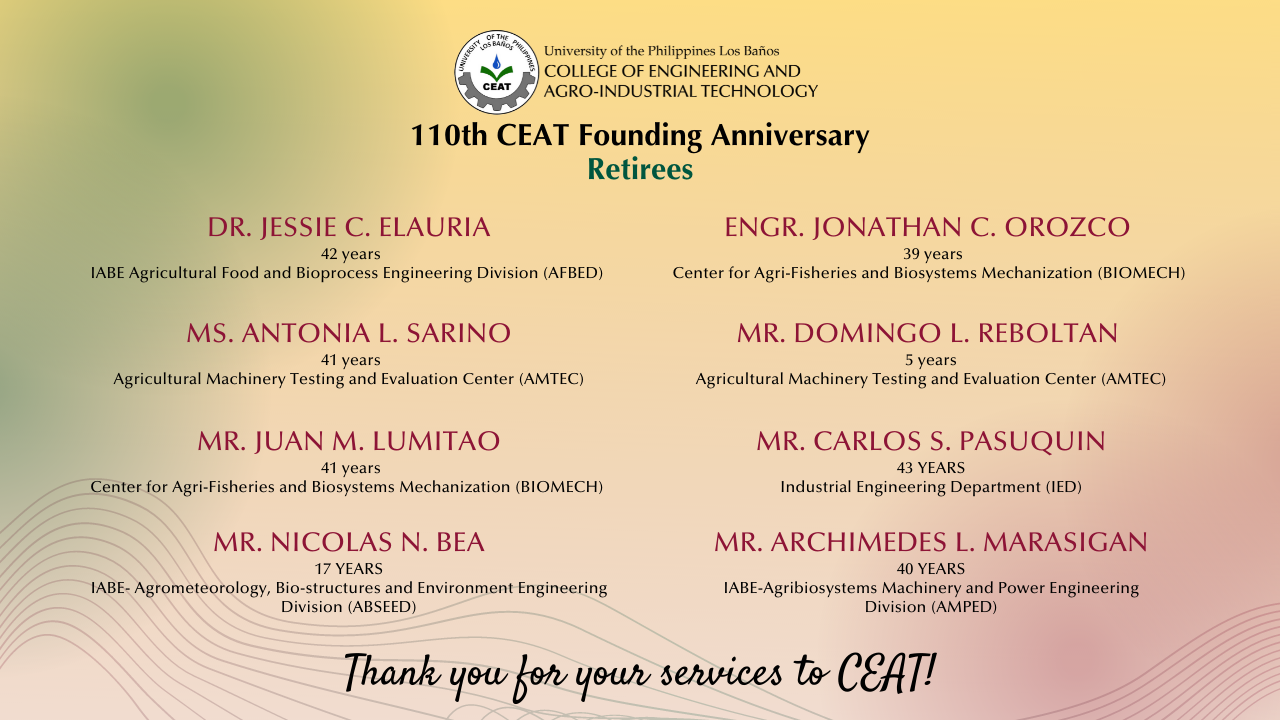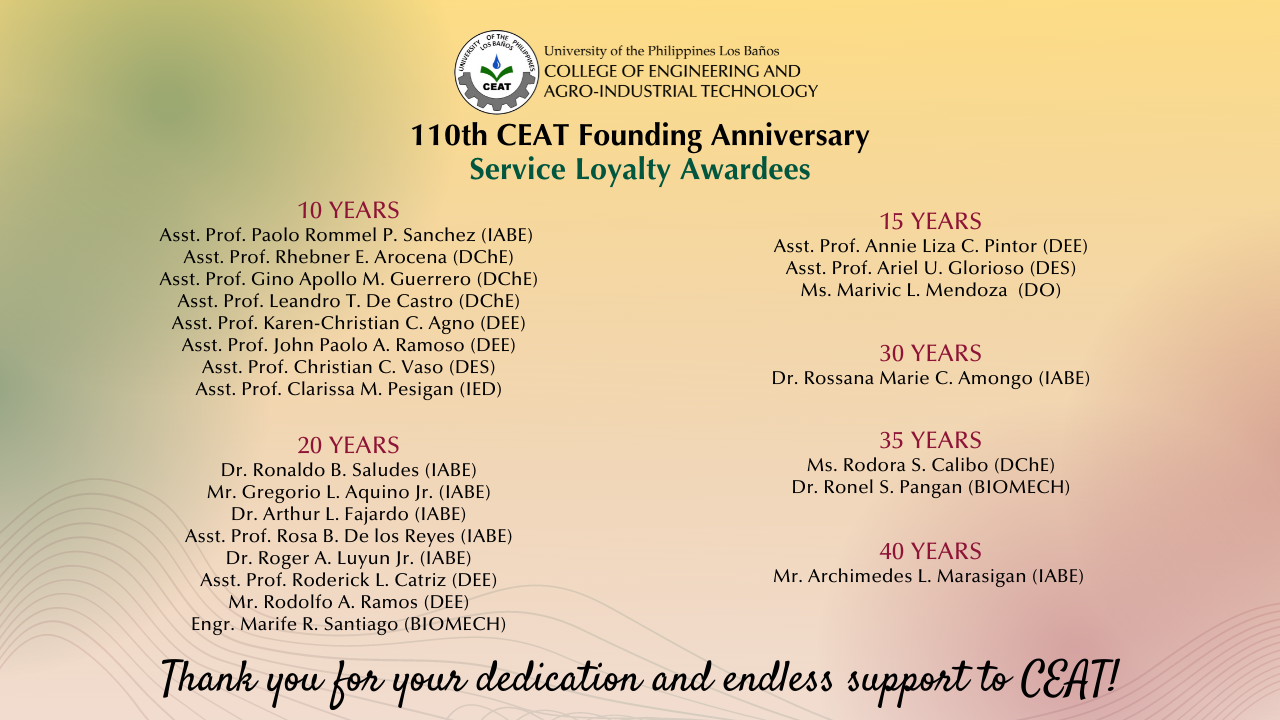 Meanwhile, CEAT also conducted the first International Conference on Engineering and Agro-industrial Technology (iCEAT 2022) on Feb. 23-24, 2022 via Zoom and was livestreamed in CEAT's Facebook page.. With the theme "Sustainable Agro-industrial and Food Engineering (SAFE) Systems: Current Trends, Challenges, and Opportunities", the 2-day conference was attended by more than 700 participants from different units of the society locally and internationally.
The discussions revolved around the topics of (i) Food Systems, Bio Process Engineering, Agricultural and Fisheries Mechanization, (ii) Land and Water Resources Engineering, Biomass and Biofuels – Renewable Energy, (iii) Environmental Engineering and Waste Management, ICT for SAFE Systems, and Industrial Engineering and (iv) Materials Engineering, Electrical Engineering, Infrastructure and Civil Engineering.
The events were all organized and made possible by the CEAT Office of the Dean, Office of the College Secretary, CEAT Awards Committee, CEAT Events Aesthetics Committee, CEAT Internship Committee, CEAT Sports and Socials Committee, iCEAT Steering Committee, with the support of the CEAT Executive Committee and the respective CEAT Units. (Mary Jane F. Gallardo)